Vista 2: Thinking to Being
The arts offer us performances & exhibitions. And more . . .
They enhance the quality of the audience with their inherent powers.
In this vista, AFTEC's 5 signature projects take you from primary schools to professional training, all seeding grounds for transformation.
Through deep engagement in the arts, we have evolved a creative learning system & is now adopted across the board in arts & non-arts based programmes.
From research on future jobs to the World Economic Forum, creativity, critical thinking, communication & collaboration are four indisputable components to capacity building in young people. The arts' inherent powers build all these. Listen to The Garden audio tour.

Sm-ART Youth (2012 – 2020)
Sm-ART Youth Project is the seed project from which AFTEC's subsequent creative learning system grew.
With classroom activities, cultural outings and parents' exchange sessions, children from grassroot families are encouraged to rekindle their innate curiosity, cultivate a reflective habit of mind and become self & socially aware.
Economic poverty is dire. Poverty of the imagination is worse. Cramped physical living conditions in subdivided flats also mean that the minds, hearts & spirits of children are locked in a vicious cycle of little exposure, strait-jacketed linear thinking & low aspirations. Sm-ART Youth is the first project that demonstrates the civic role of the arts to break barriers.
Cultural Outing
St. Bonaventure Catholic Primary School
Sm-ART Youth The First Gardeners
2015-16 Sm-ART Youth Visual Diary Volunteer
2015-16 University Practicum Trainees
2016-17 Creative Classroom Beginnings
Sm-ART Youth 2018-20 Testimonial from Volunteers and Parents
2017/18 Showcasing the Year
Bravo! HK Youth Theatre Awards (2012 – 2020)
Bravo! Hong Kong Youth Theatre Awards (2013-2020) offer unprecedented high level training for young people passionate about acting in Chinese or English. Each cohort is cultivated over 1.5 years locally & overseas.
A reflective habit of mind is one amongst many personal values nurtured as young people mature in body, mind and emotions.
After local training, a month-long cultural immersion at tertiary level is offered to a quota of young actors to train in London & Taipei.
Seeded in late 2011, Bravo! is tailor-made for 13-18 year olds, with priority for youth from grassroot families. After initial workshops and a production in Hong Kong, those who have attained specific standards are selected for further immersion at either The Cloudgate Dance School in Taipei or The London Academy of Music & Dramatic Art (LAMDA) in London. The project has been on hold since 2020.
Bravo! won the 9th Hong Kong Arts Development Awards for Arts Education in 2014.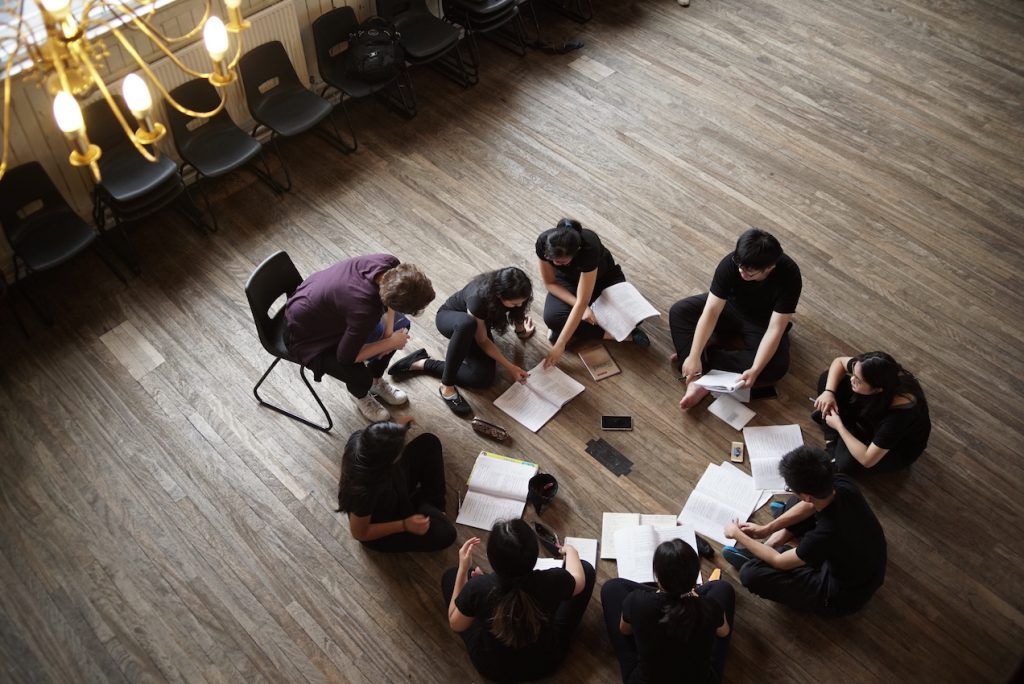 Reflections (2015-16)
Bravo! International
LAMDA, London
Bravo 1: Searching @ LAMDA
Bravo 2: Breaking New Grounds @ LAMDA
Bravo 2: A Different Experience @ Cloudgate
Bravo 3: Power of Perseverance
Bravo 4: Against All Odds
Bravo 4: Three Queens Highlights
Performing Arts in the Medical Humanities (2012 – present)
Performing Arts in the Medical Humanities is a compulsory credit-bearing creative learning module developed in tandem with clinicians at the Li Ka Shing Faculty of Medicine, The University of Hong Kong, for early years medical undergraduate training.
Beginning with knowledge and self-exploration to embodiment of attitudes and behaviours nurtured through clinical practice, the workshops cover the themes of Culture & Care and Doctor Patient Identities.
As the Community Partner to the programme, AFTEC's workshops support medical students' humanities aspect of medical science by engaging them in theatre, movement and music, developing their capacities for empathy for others.
This programme won the 12th Hong Kong Arts Development Awards for Arts Education in 2017.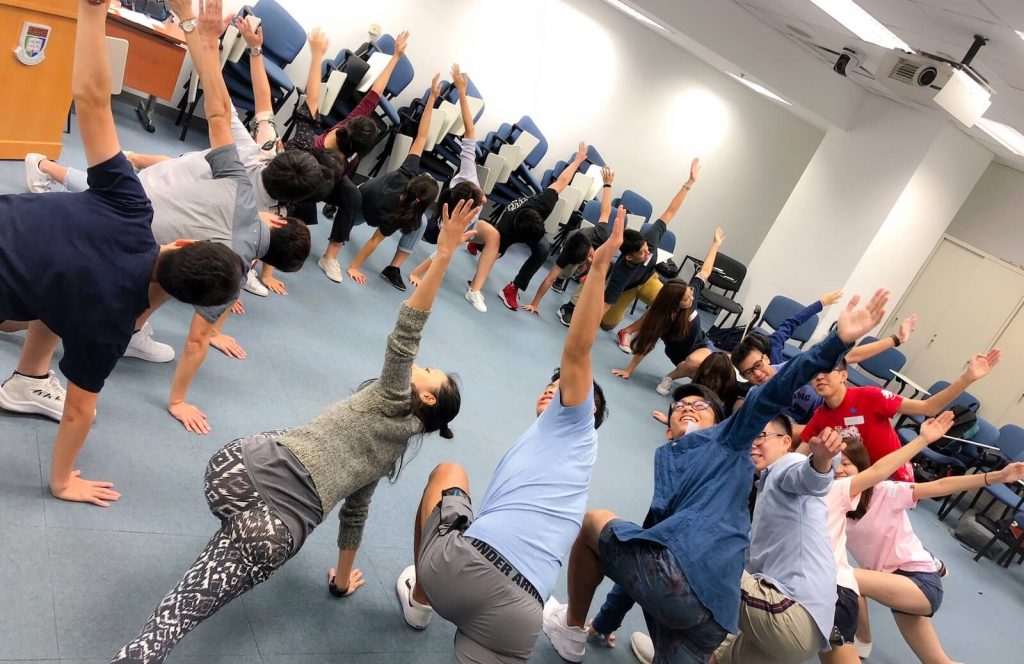 Movement & Relationships
Drama I
Li Ka Shing Faculty of Medicine, The University of Hong Kong
Creative Arts in the Medical Humanities

The curriculum draws on the humanities, the arts and the social sciences, whose approaches value observation, perspective-taking, reflection, tolerance of uncertainty and individual context. These bring insight into who we are as human beings who suffer, heal, and have responsibilities to each other and who struggle with the complexities and ambiguities of issues inherent in medical care and practice.
The following creative works are examples of the first-year capstone project in which students demonstrate critical engagement with these issues. AFTEC is specially exhibiting these artworks in support of the multiple clinicians who have taught students through other non-performing aspects of the medical humanities including narrative & literature, film, visual arts and experiential learning.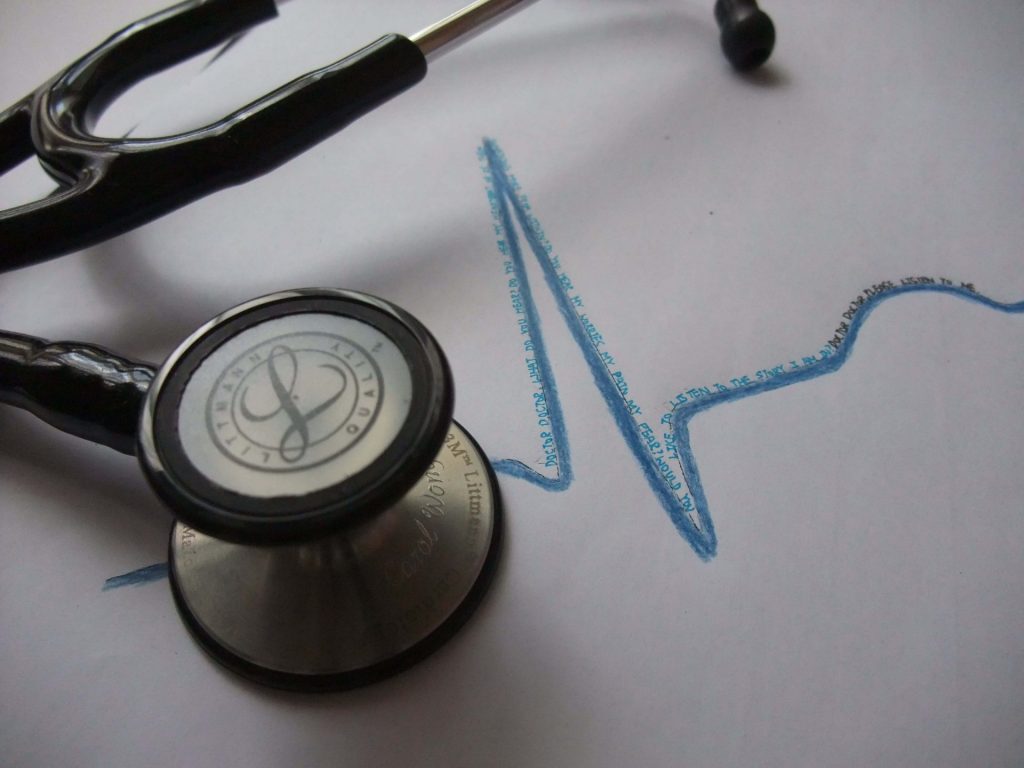 Listen to the Heart
Wong Hing Yee
2012-13
At first sight, one may see a stethoscope placed over a heartbeat. Yet, with closer inspection, the heartbeat is accompanied with a line of small-sized words which say:
    Doctor doctor, what do you hear?
    Do you hear my heartbeat, or is there something more from within?
    Do you hear my worries, my pain, my fear?
    Would you like to listen to the story I am in?
    Doctor doctor, please listen to me.
To "listen to the heart" of a patient means more than taking note of the sounds of heartbeat – it also means addressing patients' concerns from the deepest part of their "hearts". Behind the heartbeats, there is a unique life story waiting to be told. Not only do doctors "hear", but they "listen" – they value and respect patients' thoughts. This helps establish a strong doctor-patient relationship.

Behind the Scene
Pang Hoi Yee, Angel
Lau Pui Hang, Belle
2013-14
Using the same gesture in both parts of the drawing demonstrates how qualities of a good doctor developed from years of ballet practice, including physical and mental strength, perseverance, patience, teamwork and communication skills. As future doctors, we believe that these qualities would help build trusting relationships with patients and demonstrate professionalism no matter how harsh and tiring our work is, just as ballerinas presenting the elegant side with skilled techniques to the audience despite the tough work of dancing.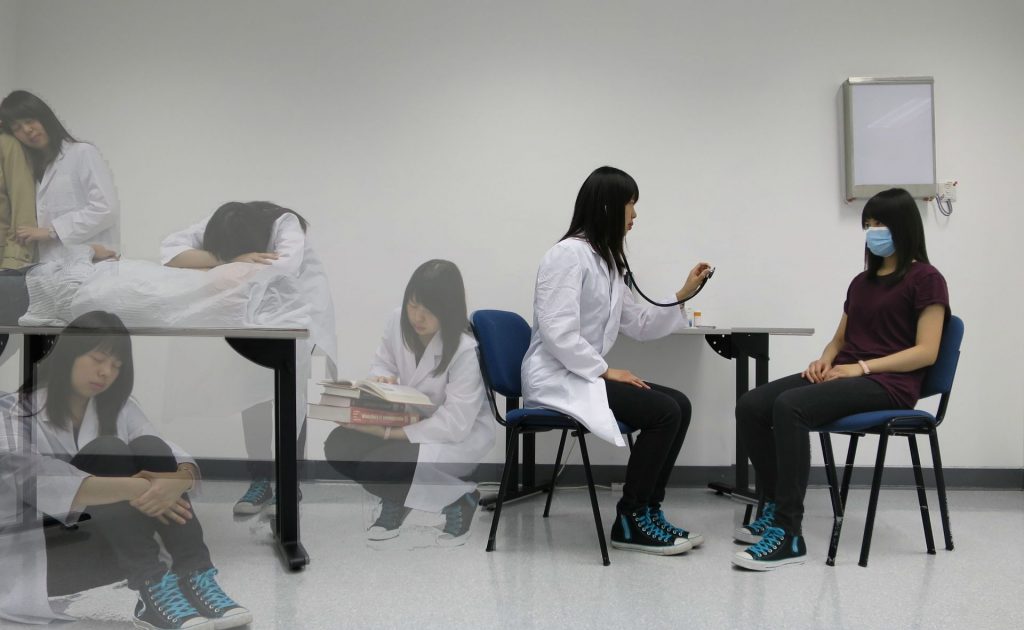 Shadows
Yiu On Lap
2014-15
These shadows appear to be away from the patient and in half transparency because these emotions and experiences are often hidden away from the patients. Doctors are often trying to conceal their emotions and show professionalism towards patients. This helps to gain confidence from patients; however, this might also put doctors into vulnerable situations as they try to conceal their feelings from themselves as well. It is important for them to realize that they are also human – having weaknesses and strong emotions are normal.

The March
Lam Chi Long Edmund
Wong Yin Lam Christy
Sit Ying Kit Eugene
O Yip Mang
2015-16
The four outbreaks illustrated represent the Hong Kong plague in 1894 highlighting the implications of poor hygiene, the smallpox epidemic in 1938 and the administration of vaccinations for prevention, an outbreak of cholera and the effort at public health promotion, and the 2003 SARS outbreak that shows the central role of health care providers. This work aims to show the medical progress over the past century. By highlighting each event's  characteristics, we hope that the art can remind us to constantly look for innovations in face of the ever changing world of disease.

Heart of a Doctor
Wong Hsi Lin Christina 
2016-17
The hands of doctors conjure up various images. Surgeon hands that wield scalpels, villainous hands that spread germs, and cold hands that palpate your body. Hands are powerful instruments, carrying out their role as a doctor's first diagnostic tool to examine pulses or breathing. They often also serve a last gesture to a patient – a hopeful goodbye, a relieved squeeze, or a comforting hand to a deceased's family when words do not suffice. As future medical practitioners, it is important for us to develop interpersonal relationships and communicate effectively with patients. Here, I present a doctor's hand, bearing no treatment but holding a patient's hand with care and empathy.

More than Meets the Eye
Asai Yoshi Nobu Joe
Chan Sze Wing Caly
Chan Tsz Long Leo
Li Juan Lok Jessie
Shao Mang Hong Thomas
Wong Chun Ming Tommy
2017-18
Medicine is a very intensive field, which requires a total dedication to our practice. With the heavy workload we may find ourselves working formalistically with our creativity and individuality lost in a sea of professional standards and expectations. This artwork serves as a reminder to us that a doctor is one of the many identities we acquire, and we must not forget our real self and the qualities we should uphold under the white coat.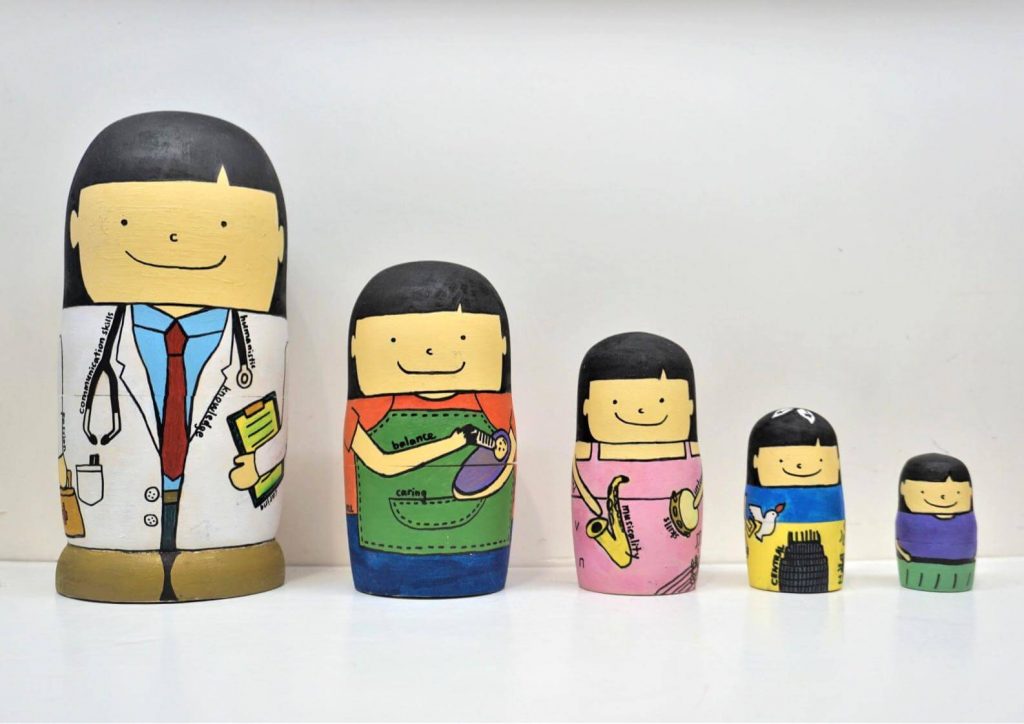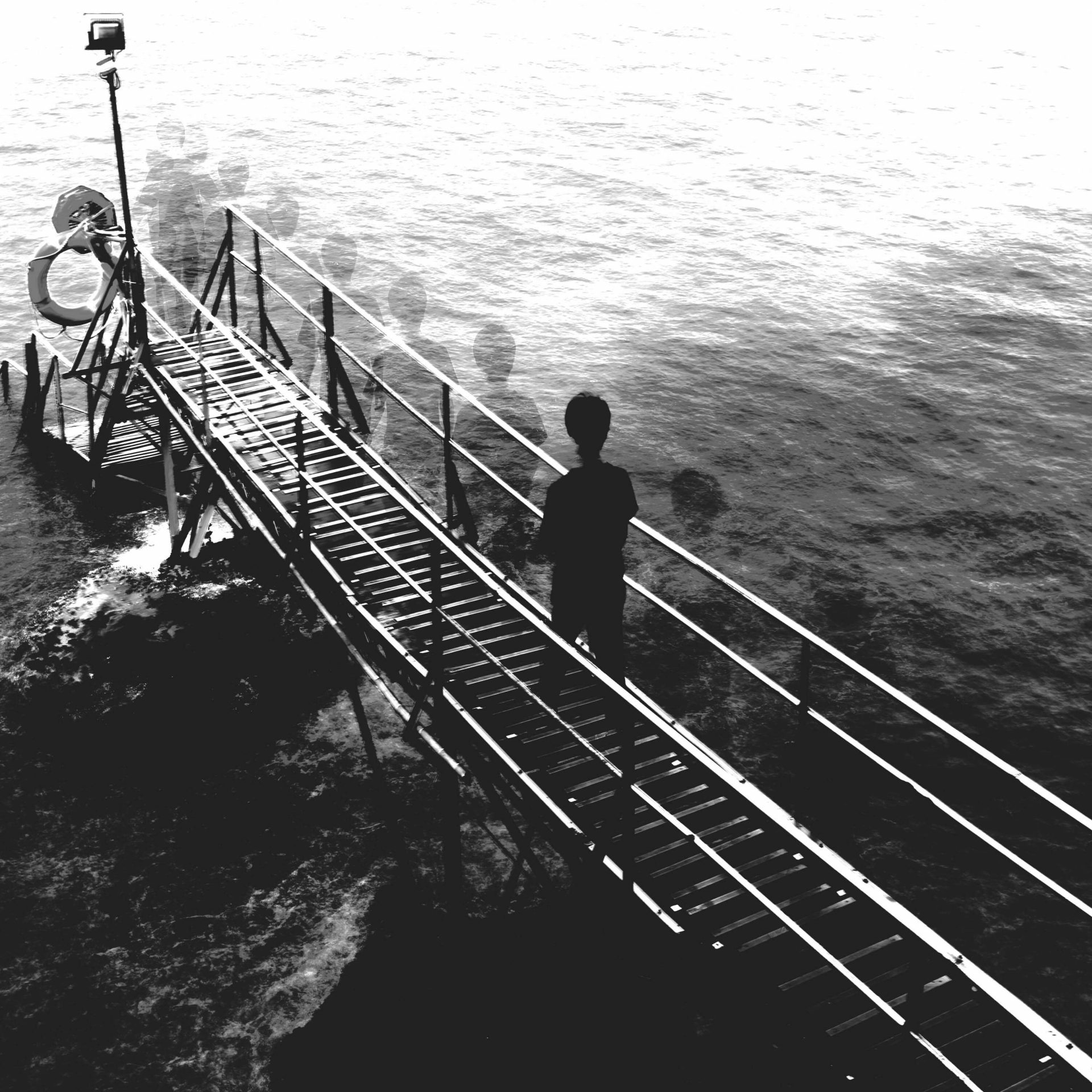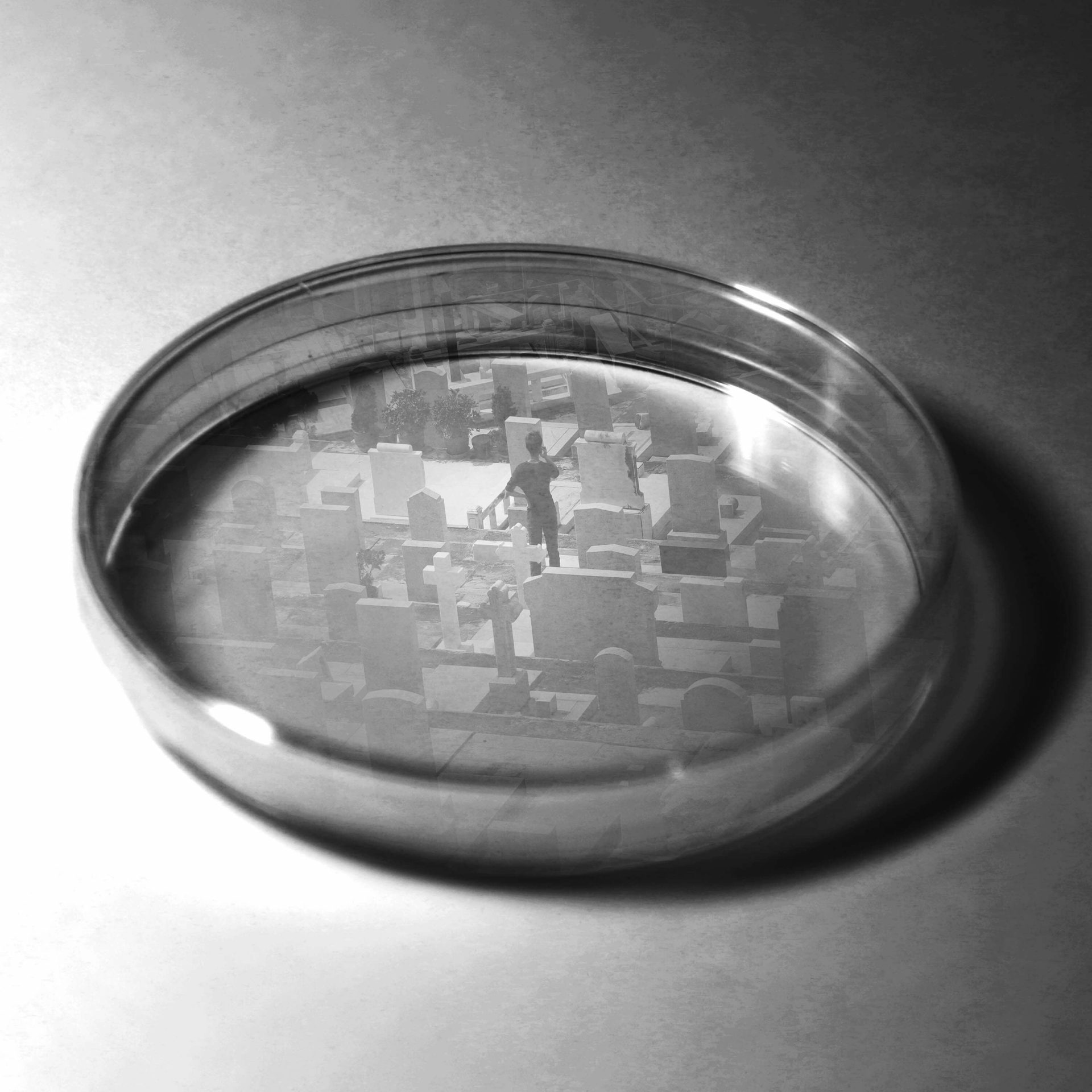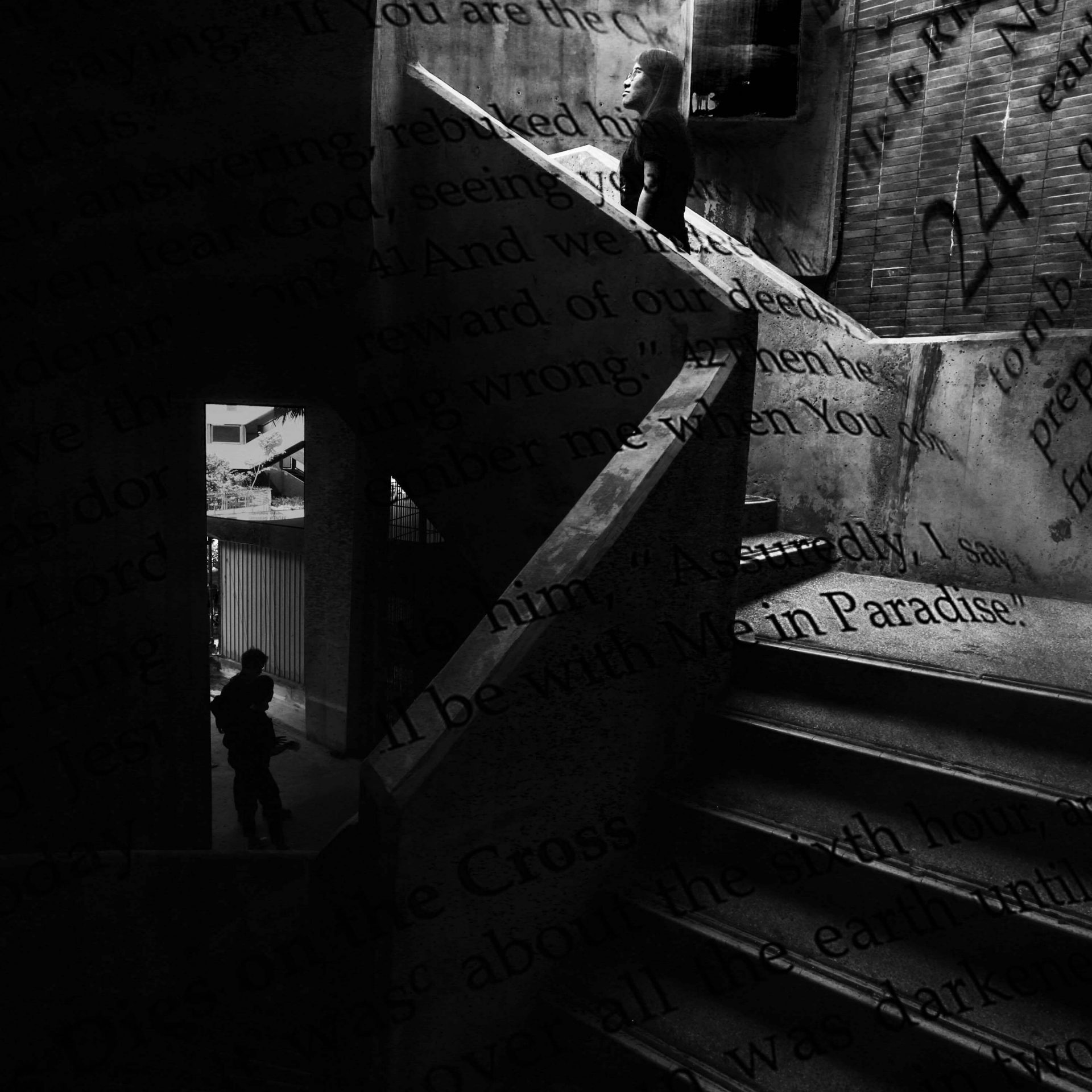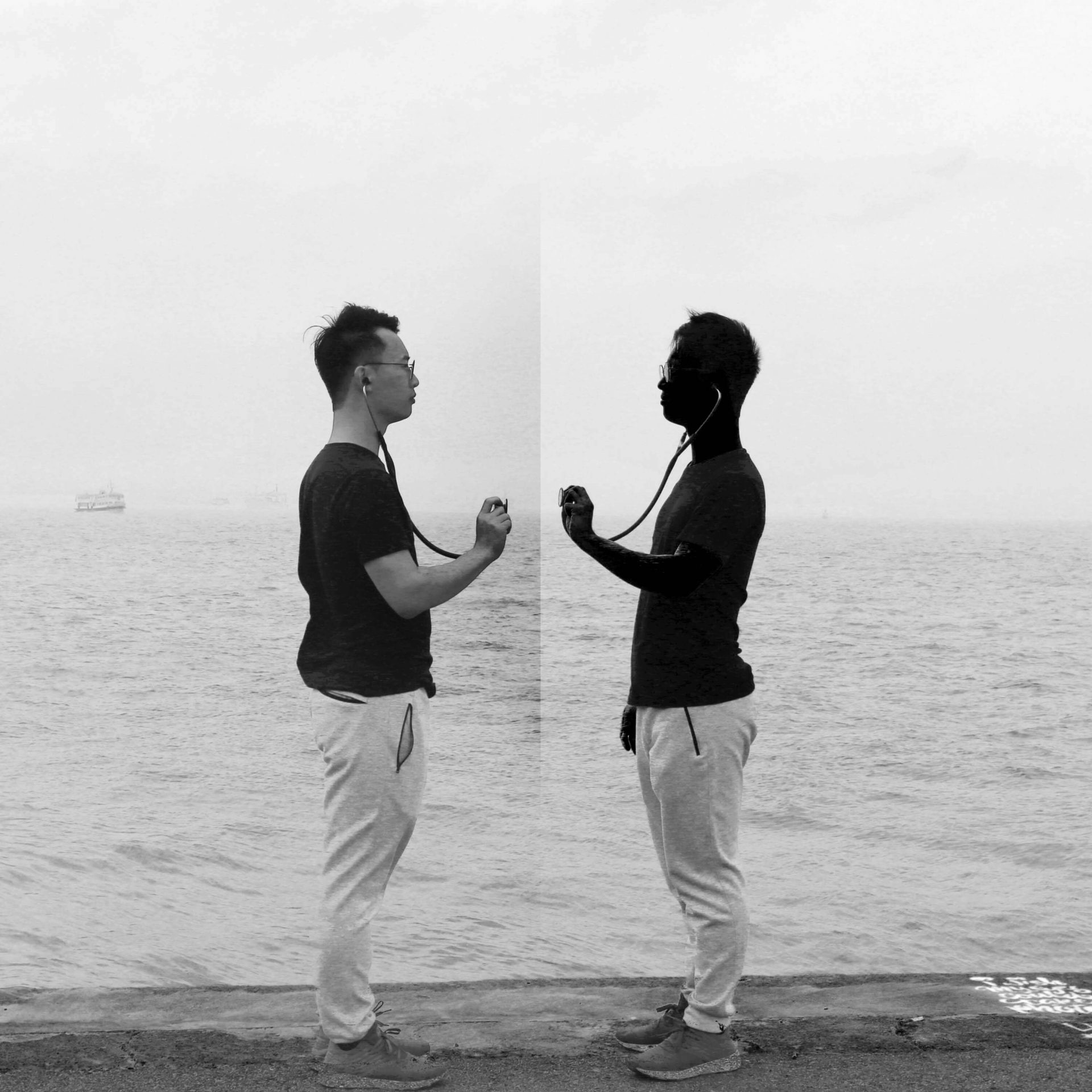 Memento Mori
Chow Hoi Kin, 
Lam Shing Fung, 
Mung Chi Yin, 
Yip Wing Ching
2018-19
The collection:
This compilation of photos is called Memento Mori. "Memento Mori" is a Latin phrase stemmed from medieval Christian theory, meaning "remember death", which echos to the theme of this photo compilation: the meaning of death. Using this name, we wish to anchor this compilation to the long heritage of western mortality art. From a scientific, psychological, philosophical and religious point of view respectively, we used photography to reflect upon what death is and its significance.

Mors Certa, Hora Incerta
Chu Tsun Wai Steven
Kan Ka Lam Rachel
Li Muk Wang Morain
Yeung Charming
2019-20
Our title 'Mors certa, hora incerta' is a Latin phrase meaning 'death is certain, its hour uncertain', reminding us that despite the inevitability of death, unknown of its hour makes our lives all the more meaningful.this image is meant to be soothing, ending our fears through a shift away from self, and immersion in the wide world. This is relevant to us since the medical practice entails facing patients who fear death; only by appreciating that death is natural ourselves can we truly soothe our patients and their families during their darkest hours.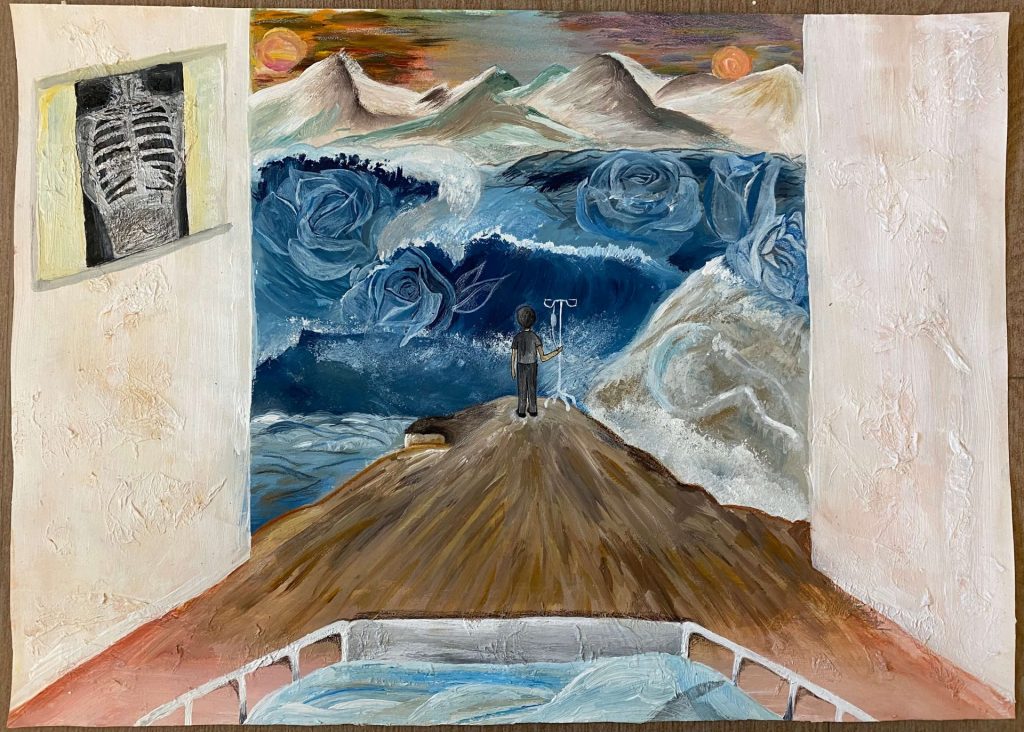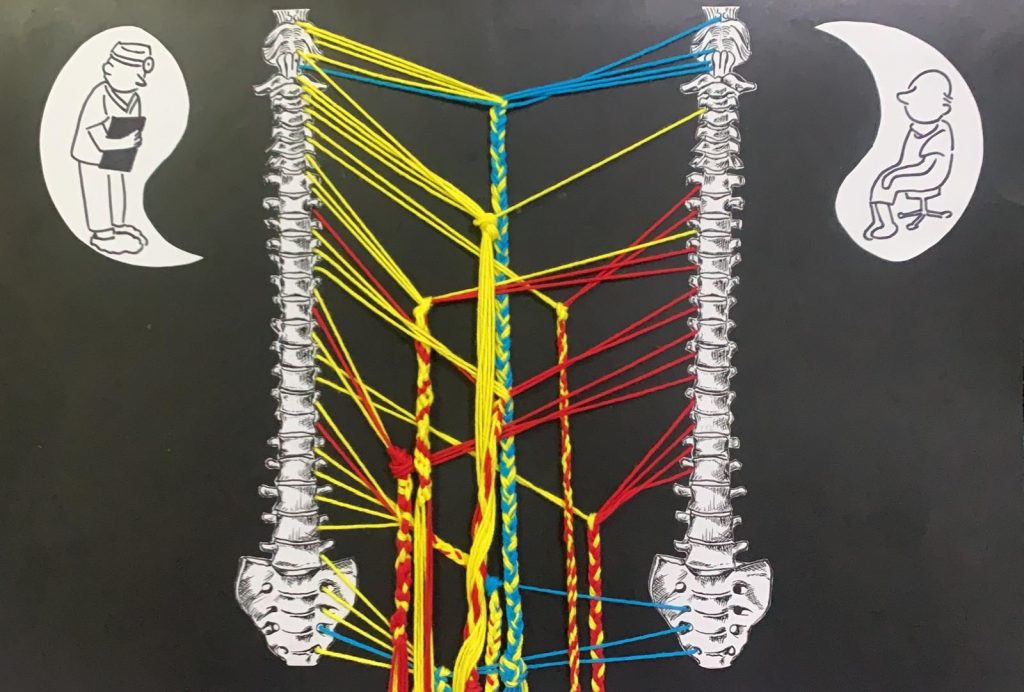 Complementarity & Complexity
Yue Ru Bing Serena
2020-21
This artwork features the anterior view of the spinal column from brainstem to sacrum with efferent somatic (yellow), sympathetic (red), and parasympathetic (blue) nerves. The nervous system is responsible for integrated coordination, where both somatic and autonomic nerves work together to ensure optimal physiological functioning. In the centre, the nerves converge and intertwine into braids. Each braid represents a decision moment doctors and patients encounter: surgery or chemo? Continue lifestyle changes or start medication? Do benefits of treatment outweigh risks? Should we switch to palliative care? Thisprocess is sometimes straightforward, sometimes uncertain, and sometimes heartbreaking – as represented by different braids that vary in length, pattern, and complexity. Ultimately, the artist wishes to express the complementarity of doctors and patients as they navigate their relationship.

The God-given Face and Another
Chen Ting Hin Hugo
Lui Chun Hei Jessica
Wong Ying Ariel
2021-22
With its title inspired by the confrontation between Shakespeare's Hamlet and his mother regarding her duality and deviation, "The God-Given Face and Another" was created during the pandemic, centred around the Inverse Care Law phenomenon.  By juxtaposing the first image, featuring a single patient with many attending medics; to the second, depicting the grave consequences of under-resourcing; we hoped to encourage reassessment of medical care distribution, and strive to achieve justice for all patients.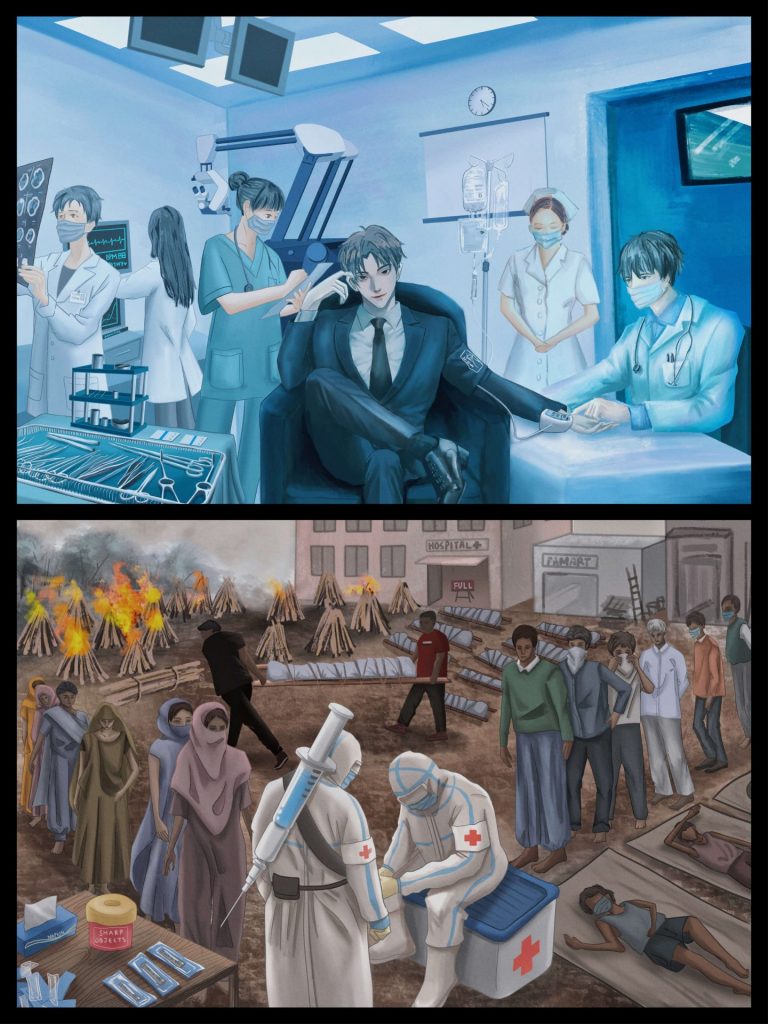 Jockey Club Arts & Actions Project: Arts for Empowerment (2018 – 2022)
Jockey Club Arts & Actions Project: Arts for Empowerment  is a very special three-year project in which two schools serving students with social/emotional needs engage in multiple art forms.
There are eight Schools for Social Development in Hong Kong. Two were involved in the project for just under four years. By the time the project was completed, and thanks to the passion and dedication of innumerable artists & teachers, every single student in both schools was involved in a multi-artform reflective expedition linking the inner self to the outside world. Fearing less, reaching out much more.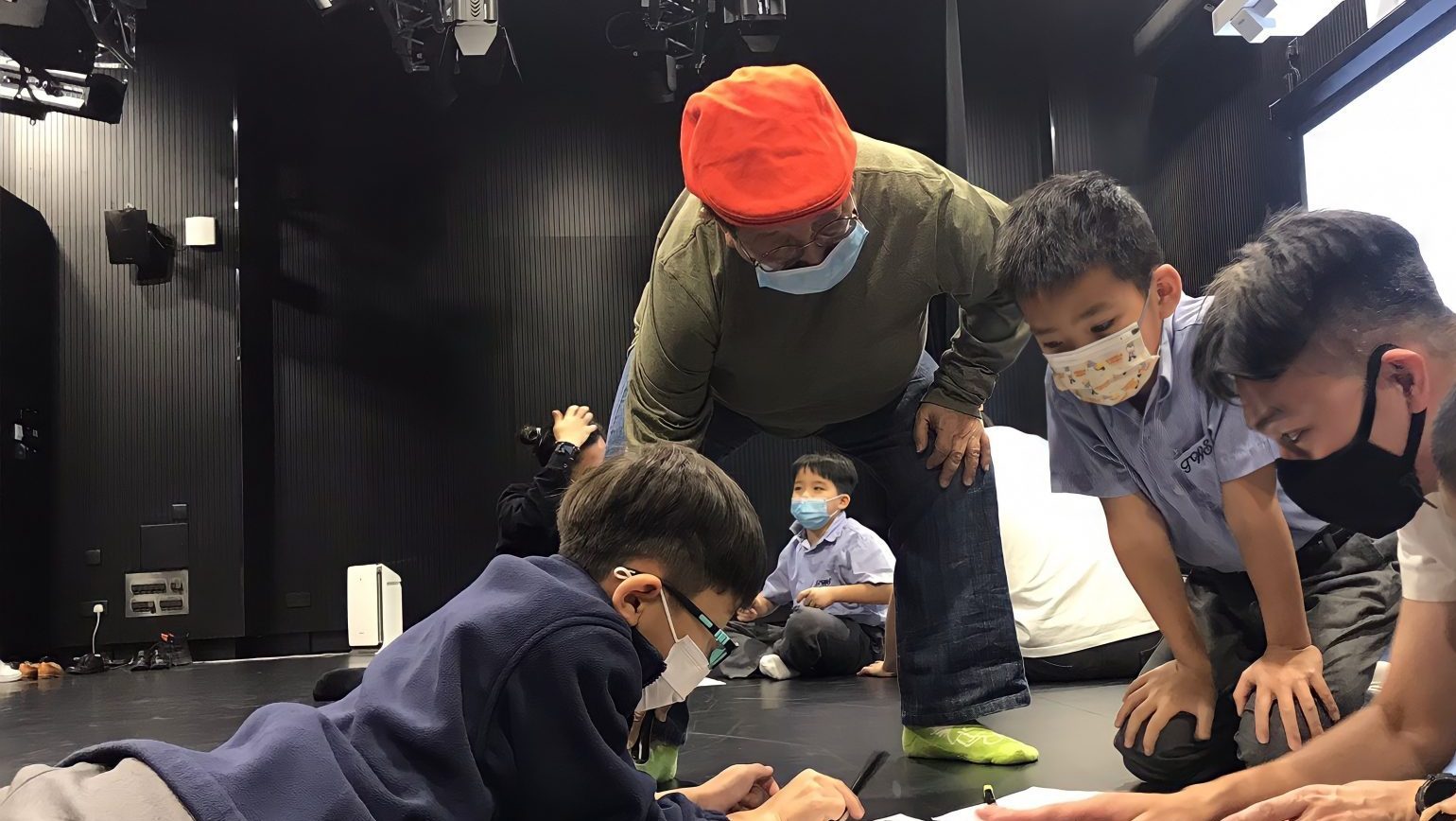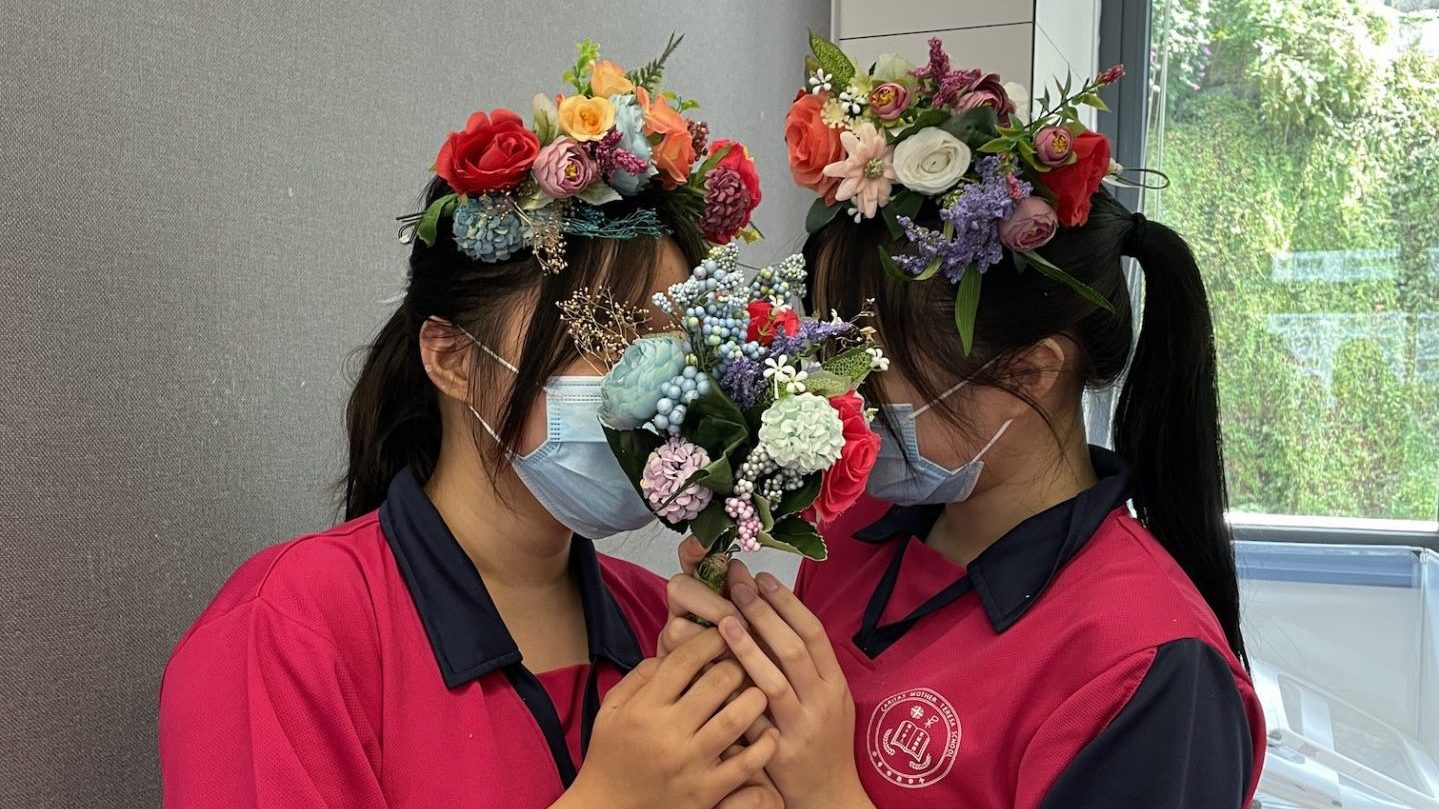 Jockey Club Arts-based Cross Curriculum Creative Learning Project (2021 – present)
Jockey Club Arts-based Cross Curriculum Creative Learning Project is a three-year pilot creative learning system developed from AFTEC's 14 years of experience.
Diverse creative domains are matched with two subjects of choice in each school with the curriculum co-designed & co-implemented by school teachers & creative practitioners.
This student-centred creative partnership programme aims to prepare young people for the challenges of the 21st century by developing their Creativity, Critical thinking, Communication, Collaboration skills for Contribution to social capital ("5Cs"), bringing about an increase in creative practices in schools for Primary 4-6 students.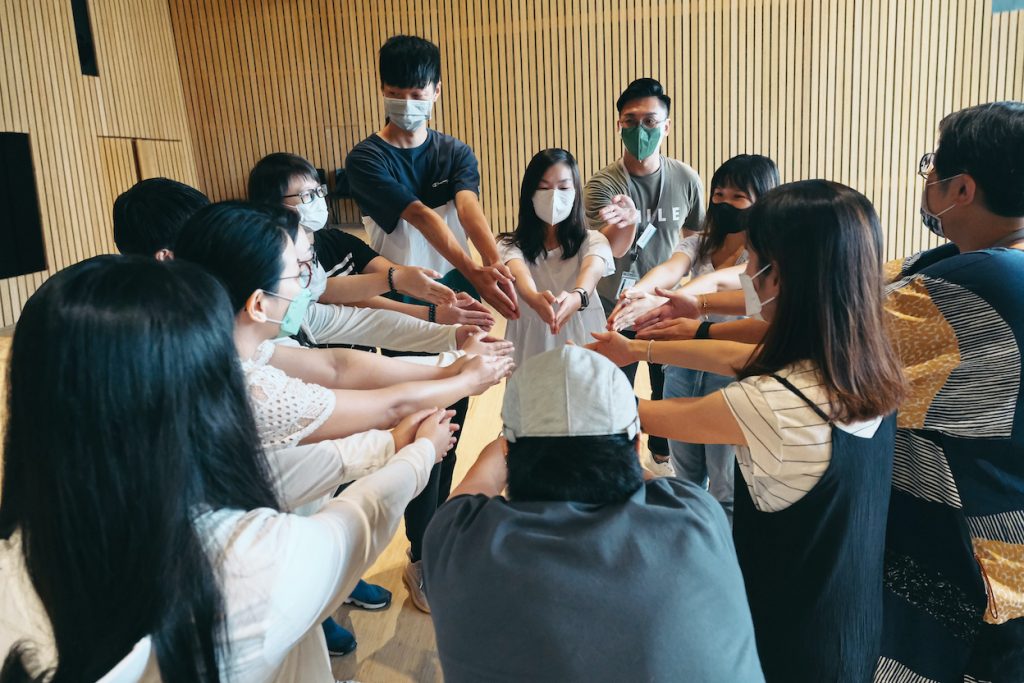 Visual Diary 2021-22
Knowledge Exchange: Building Creative Classrooms 2021-22
Spotlights on students 2021-22
Animals
These are the animals featured in our garden. They are the bearers of good tidings that you can discover from The Garden audio tour. Instead of fictitious creatures, we thought a certain familiarity could be brought here. These animals, from the smallest Damselfly to the largest Barking Deer, are all found locally. Seek them out as you listen to the audio guide!

Purple Sapphire Butterfly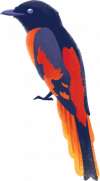 More at the exhibition Dec 10-20, HK Cultural Centre!